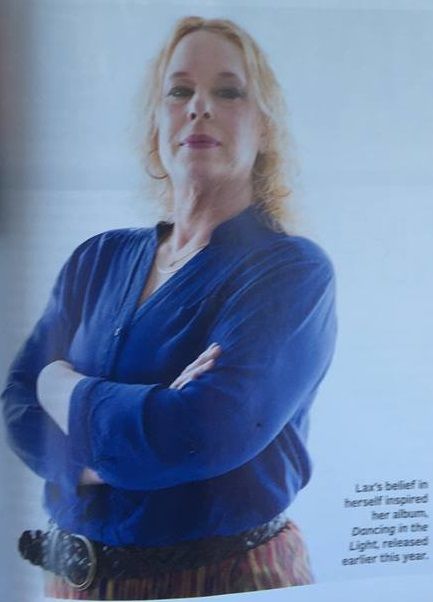 TIEMPO
DANCING SPIRIT BY MEL MINTER
For Anne-Marie Lax, both singing and a spiritual focus were important aspects of her life from an early age. She has been singing since she was a kid---in church choir, high school show choir, and garage bands---and as a teenager, she began studies to become a minister in the Church of Religious Science. Life, however, had other plans for her, and both those activities gave way to raising her family. Several years ago with her kids grown, she thought it would be fun to get back into music.
"Every woman---particularly women---you get to be my age, you're finished raising your kids, and it's like 'Now what?'," she says.
So to overcome a bad case of stage fright, Lax sang for a time in a band at her church, Unity Spiritual Center East Mountains, and began taking guitar lessons. She had no idea that these small steps would put her on a path to a four-year project that has effectively combined her two passions and brought her full circle. Earlier this year, she released Dancing in the Light, an album of original, inspirational songs that features several genres, including jazz, rock, zydeco, and Americana, and which has won critical attention from a variety of musical outlets around the state.
Things took off when a friend turned Lax on to an album by Carrie Newcomer. "I just fell in love with her style and lyrics," says Lax, "and lo and behold, she came to Ghost Ranch [in Abiquiu] to do a song-writing workshop in 2011. Lax attended the workshop, not really intending to write songs. "I just wanted to see what she had to say," she says. But write songs she did, and she marks the workshop as "one of those life-changing moments."
Back home, she contacted her friend Katie Gill, the well-known member of both the Buckarettes and Jeez LaWeez, to tell her that she had written some songs. Gill started pulling things together to record several for a songwriting contest, introducing Lax to some of the area's best musicians.
"She didn't intend to help me produce an album," says Lax. "It just kind of happened."
Over four years, in four different studios, Lax wrote and recorded the album's 12 tracks, sharing some songwriting credits with Gill and Robyn Mackenzie. (One song, "Never Too Late," came quickly by "divine download," says Lax.) She also credits the February Album writing Month community for it's support.
The songs chronicle her own self-revelations and aim to inspire others. "I felt like, if I can do it, anybody can do it," she says. "That's kind of my message. You need to believe in yourself, and miracles happen. I had to get past myself. i had to get past the belief that I wasn't good enough to do this. I think I did."
So did the emPower Posi Music Awards, which named the video for Lax's "Choose Love" the Best Posi Video of 2015. The 2016 New Mexico Music Awards followed suit with three nominations for Best Blues Song, Best Jazz Song, Best Pop Album (winners to be announced June 19, 2016).
Lax has also enriched the musical scene by founding and hosting the Second Saturday Community CoffeeHouse at her church. The venue provides great music in a listening-room environment for all ages.
You can dance over to Lax's website at spiritdancermusic.com to learn more about her, watch her two videos ("Choose Love" and "Road to Damascus"), and buy her album, which is also available on CD Baby, iTunes, Amazon, and Spotify. For coffeehouse information, go to unityemtns.org/coffeehouse1.